GRILLED BEER CAN CHICKEN
Spice-rubbed chicken grilled over a beer can. Is it too much to say that's one juicy booty? Yes? Ok, sorry. One of summer's best recipes: great smoky flavor, crispy skin and tender chicken meat. The beer doesn't just impart flavor, but steams the check from the inside so it roasts evenly and deliciously. Pairs well with every kind of summer side, a cold beverage and good company.

Ingredients
1 3.5-4 lb whole chicken

1 can light lager

2-3 tablespoons spice rub

Spice blend of your choice (like a good BBQ rub), OR

Bon Appetit's 4-3-2-1 Spice Rub (recipe below is enough for 2 chickens)

4 tablespoons kosher salt

3 tablespoons brown sugar

2 tablespoons sweet paprika

1 tablespoons cayenne pepper

Small foil drip pan

2 pairs of tongs
Preparation
Drink half of the beer (or pour it out, whatever)

Use a can opener to remove the top of the beer can (for maximal boozy vapor magic)

Heat one side of grill to high

On other side of grill (indirect heat side), place drip pan and fill with water to 1/2" depth

Season chicken with spice rub

(Option to grab a buddy to help make the next couple steps safe and easy)

Prop up chicken and fit beer can in the tush of the chicken, about half way down the can

Transfer chicken and beer can to the hot side of the grill, and position the bird so that the beer can is sitting upright and the chicken legs are like kickstands keeping the chicken in this secured and stable position

Cover and grill for about 45-60 minutes, until thickest part of thigh reaches 165 degrees

Once cooked, remove from grill onto plate using a pair of tongs

Grab your buddy from before. While one of you holds the chicken up just above the plate, the other should carefully twist the beer can out of the chicken using a second pair of tongs

Lift the chicken from the beer can and place on a cutting board, let rest for 10 minutes before carving

Do not pour beer can down the sink - let cool completely, then put in a Ziploc bag and throw away (you don't want to pour the fats and oils down the drain)
Serves 4.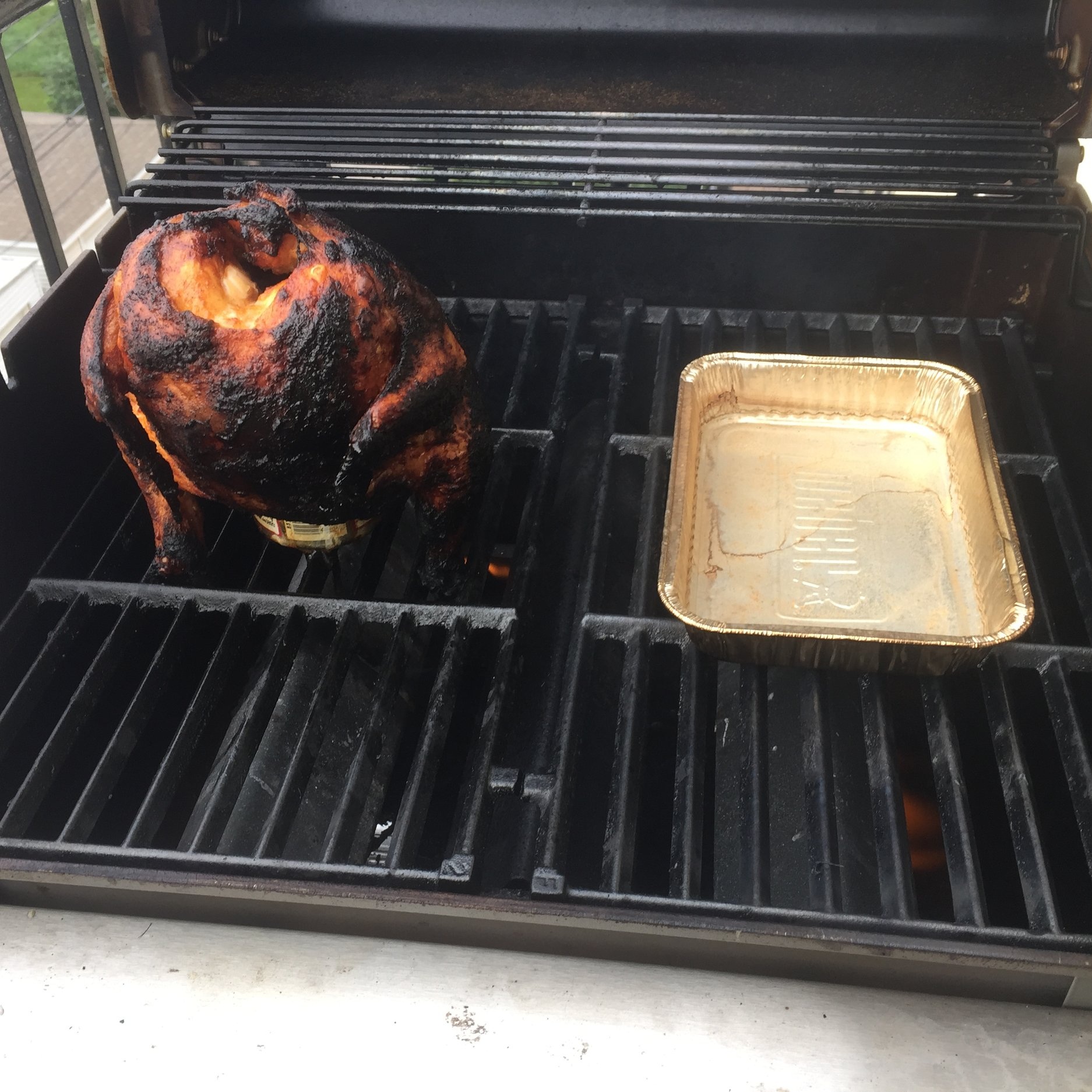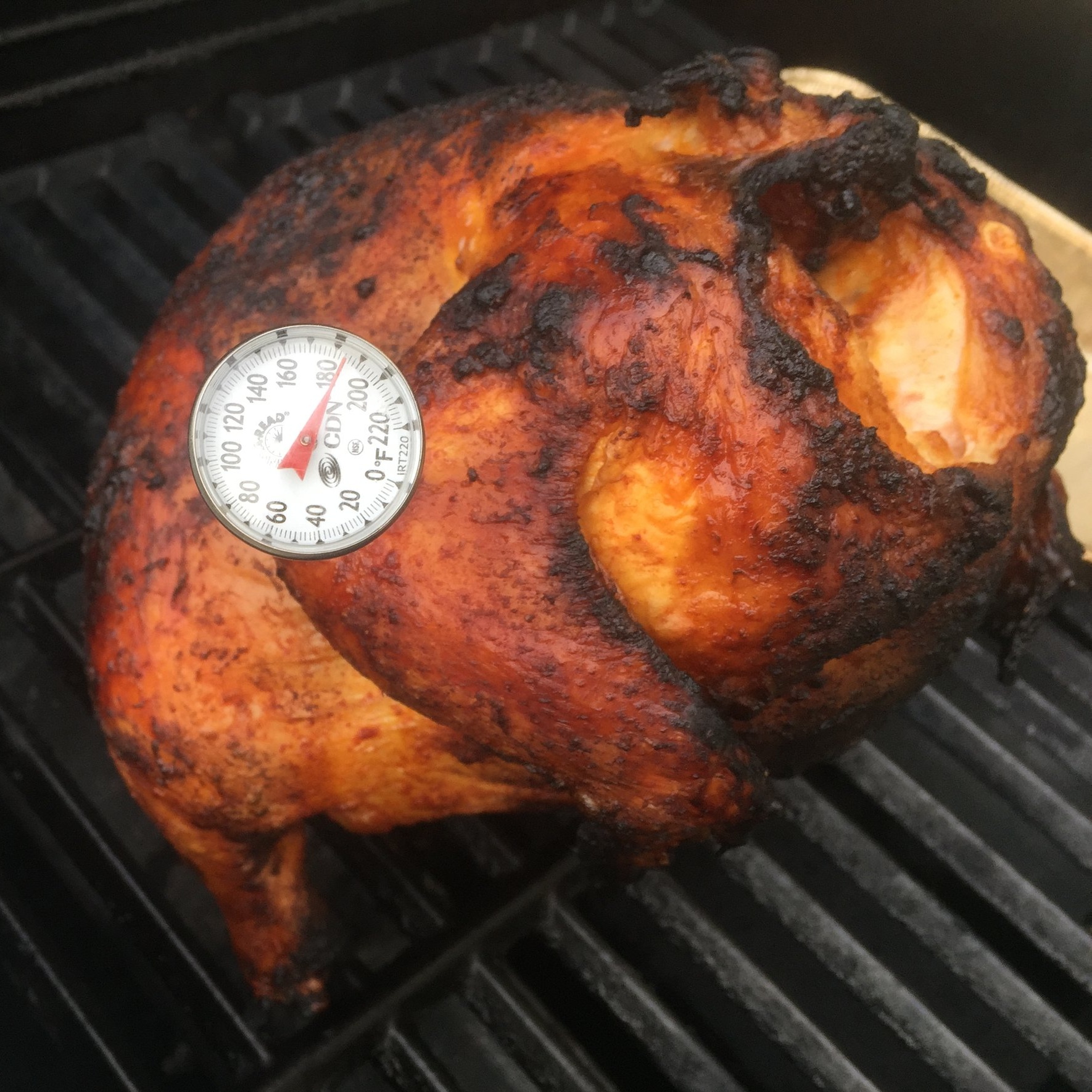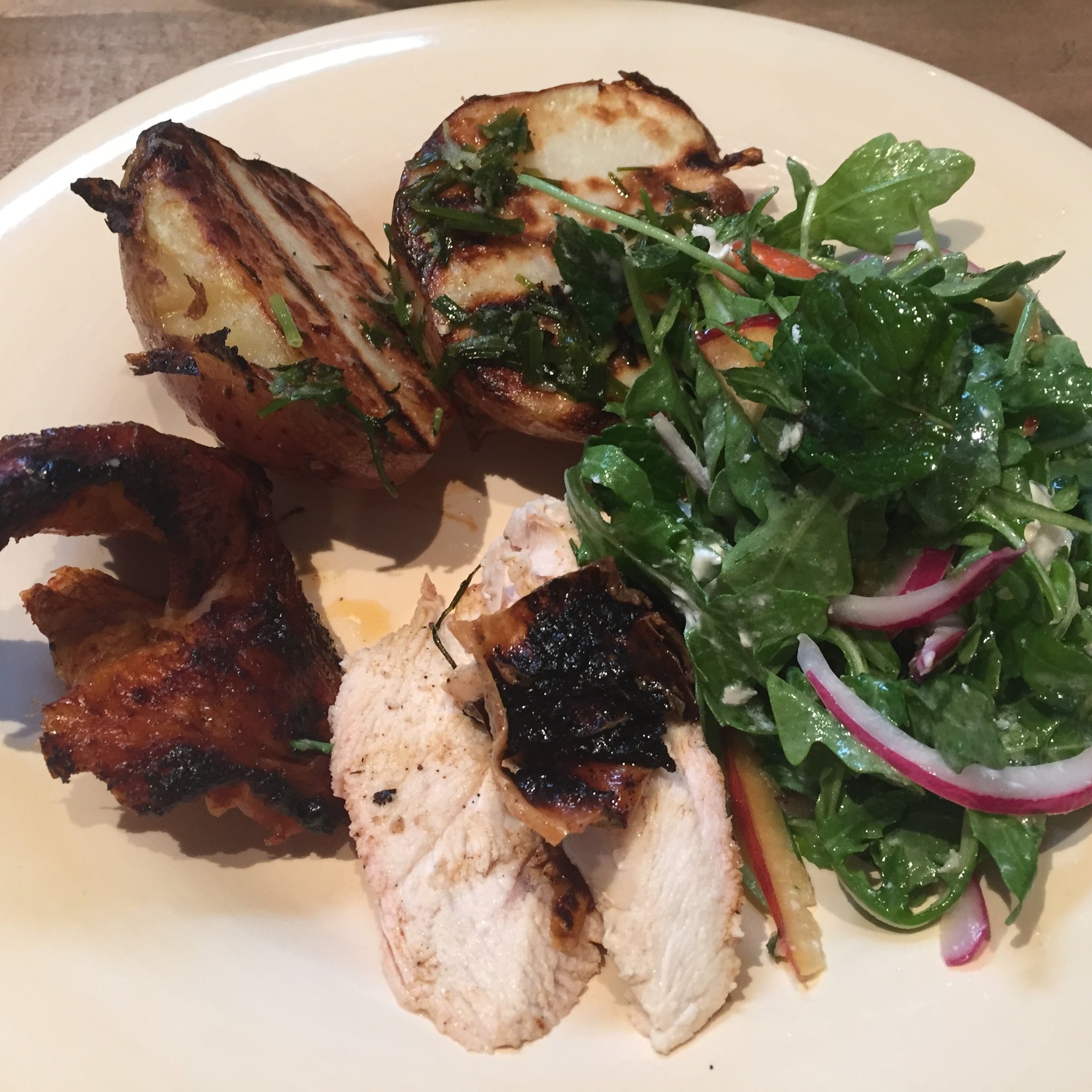 Source: Beer Can Chicken | Bon Appétit
(visit site for charcoal grill instructions)